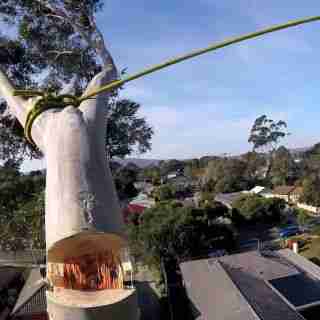 Finding a reliable pine tree service is vital if you have a pine tree on your property that needs maintenance. Pine trees are a beautiful addition to any landscape but can also be high-maintenance. When these trees become overgrown or damaged, they can threaten your home or property.
Getting in touch with a reputable pine tree service in your area is necessary. A professional pine tree service will always have the experience and equipment necessary to safely trim and remove the pine tree. They will also provide you with advice on pine tree care.
In addition, as pine tree maintenance specialists, Dynamic Arborist have certified equipment and knowledge to safely and efficiently remove large pine trees. At the end of the process, we also take care of any stump removal or trimming that may be necessary.
Types of Pine Tree Services
Tending pine trees is not something most people would feel comfortable doing themselves. Additionally, if the tree is removed poorly and is close to your home or other structures, there's a chance of damage. Our professional pine tree removal services offer skills and experience to remove your tree quickly, safely, and without harm.
Here are a few services that we offer:
Pruning
One of the most vital elements of maintaining your pine trees is pruning. Pine trees can overgrow quickly and cast excessive shade, harming nearby vegetation. We prune pine trees to eliminate extra growth and allow more sunshine to reach your other plants.
Removal
Pine trees can grow very large, and their branches can extend far out from the trunk. If these branches are not properly trimmed, they can easily fall on and damage your home – or even injure someone. It's important to have your pine trees regularly trimmed by a professional tree service to remove risky branches. Pine tree maintenance specialists like Dynamic Arborist can handle all these tasks, ensuring your pine trees stay healthy and look great.
Another reason to remove pine trees is their potential for being fire hazards. Pine needles are highly flammable, and if there's a fire in your area, the pine needles can easily catch fire and spread the flames quickly. Clearing any dead or dying pine needles from around your property is essential.
Unfortunately, pine trees can also become a hazard to homes and buildings during storms, as they are susceptible to falling branches. Pine trees are often home to pests and diseases that can harm other plants. Sometimes, they need to be removed to make way for new development. Ultimately, there are numerous circumstances when pine tree removal becomes necessary.
If you no longer want a pine tree on your property or it's posing a danger to your home, it's time to call us to remove it. Pine tree removal can be complex and dangerous, so it is important to hire a professional tree service company like Dynamic Arborist to carry out the work. We have the experience and equipment to safely remove the tree without damaging the surrounding property.
Stump Removal
Most people don't realize how difficult it is to remove a pine tree stump. The roots can grow very deep and wide, making it nearly impossible to dig them out by hand. And even if you could, it would take a very long time – which is why most people opt for our professional stump removal services.
There are a few different ways we can remove a stump. One common method is to use a stump grinder. This machine essentially grinds away the stump, leaving behind nothing but sawdust.
Another option is to use chemicals to break down the pine tree stump. It's a quicker and easier method but comes with several risks, including environmental harm. Removing a pine tree stump isn't easy, regardless of your chosen method. But with our help, it's done quickly and safely.
PINE TREE SERVICES FAQs
Why should I remove pine trees?
Pine trees are high-maintenance and can be a liability if they fall over. Moreover, they are very messy as they drop needles and cones everywhere. They also tend to grow quite quickly, so they might overgrow and be difficult to manage. Additionally, pine trees are known for being fire-spreaders, so if you live in an area prone to wildfires, removing them may help reduce the risk of your home being damaged or destroyed.
How much does it cost to cut down pine trees near Glen Waverley?
Tree removal companies typically charge by the hour or by the job, so it's important to get an estimate before hiring. The average pine tree removal cost is between $350 and $2,000, with most people paying around $450 for a small pine tree and up to $4,500 for a large one. If you need to remove the stump, this will also add cost to the project. Please give the team at Dynamic Arborist a quick call today to help with your Pine Tree needs.