Professional Palm Tree Removal Services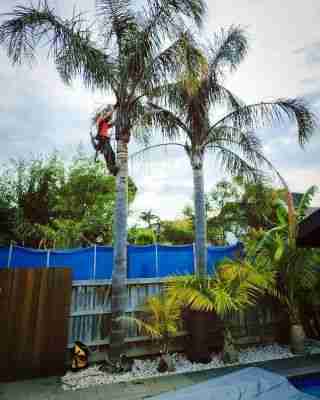 No tropical look is perfect without palm trees in the background. Their striking, symmetrical leaves, diverse growth patterns, and availability of varied structures and sizes make them ideal for gardens. However, if not maintained well, dead and unhealthy fronds will begin to hang from the tree, which will look unattractive and shabby.
The best solution to such situations would be to contact a professional palm tree service provider in Dynamic Arborist. Whether your palms only need a bit of tidying up, serious pruning, or complete removal Dynamic Arborist has got you covered. Our tree experts have done countless palm tree jobs with zero damage to the nearby landscape, vegetation, or any other obstacle you throw at us.
Palm Tree Pruning Services
If your lovely palm tree can be saved, a session of palm tree pruning will make it healthier and stronger while considerably improving the tropical appearance of your garden.
Palm tree pruning and cleaning should be done periodically, properly, and carefully – and not just because your palm will look better. When neglected, a palm tree will drop debris, damaging your property and causing danger to the people it shares the world with.
Our team of arborists is experienced in looking after the palm trees you worry about. When we arrive at your premises, we will perform a free estimate assessment and offer advice about the safest and most practical way to move forward.
Using advanced equipment, we scoot up and get rid of those unsightly dead fronds, uplift the canopy, and shape the trunk – transforming your palm into a tropical beauty.
Once the pruning process has been completed, we will clear all the waste from the site to the point that you wouldn't even know we were there.
Palm Tree Removal Services
Should you require palm tree removal services, our arborists will assess the tree and advice on the best course of action. Usually, reasons to remove a palm tree can include the following:
When they become damaged or diseased

When they have outgrown the environment, they are in

When they impact the appearance of your garden negatively

When their roots are damaging the surrounding structures, fences, pool, and underground services

It's creating a huge risk for storm season.
There are plenty more reasons why your palm may be removed, but no matter the reason; our highly trained team will ensure a safe process.
Palm tree in a challenging or tight spot? Worry not. We know how to perform complex removals such as those beside your home or by a pool. To ensure your property's safety, our crew receives regular training. This keeps them updated with the recent removal techniques.
Palm Tree Stump Grinding
Once the removal process is over, we also offer stump grinding. This frees up space in your garden for patios, outdoor furniture, and landscaping that would otherwise be impossible with a stump in the way.
Our arborists use high-tech equipment to ensure the process is done effectively and in a short time. Note that there is no use of hazardous chemicals or intensive digging.
We are licensed and insured for your protection
Unlicensed and uninsured companies put property owners at risk in case of injuries and damages. As a licensed and insured palm tree service company, we take the risk out of working on your premises and stand behind our work. Have peace of mind while receiving quality service.
We're your palm people — Contact us today!
Palm trees are among the hardest trees to prune, trim, or remove. They might be a sight to behold, but cutting or removing them could be risky and time-consuming. If you want to save time and money and ultimately avoid the worries of having to deal with avoidable damages and injuries, then now is the time to have your palm trees maintained by Dynamic Arborist.
Simply call us today, and we will happily assist you.