Trusted Gum Tree Services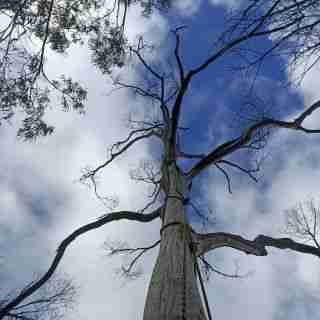 Gum trees are a type of tree that belongs to the family Myrtaceae. These trees are native to Australia, New Zealand and other parts of the world. They are known for their hard, resinous wood and for their sap, which is used for making gum, eucalyptus oil and other products. The leaves of gum trees have a distinct aroma and are a popular food source for many species of birds, mammals and insects.
Gum trees are evergreen trees, meaning they keep their foliage year-round. Depending on the species, they can range in height from small shrubs to towering trees over 100 feet tall.
The bark of gum trees is often scaly or fibrous and can range in color from gray to red-brown. Gum trees have a wide range of uses, including wood for construction, fuel and furniture, and the sap of some species is used to make medicines, dyes and incense.
Are you looking for professional gum tree removal services? Look no further than Dynamic Arborist!
We have experts and Specialists who specialize in the safe and efficient removal of gum trees of all sizes. Our experienced team of certified arborists has years of experience and the necessary tools and equipment to complete any job quickly and safely. Here, we'll provide you with an overview of our gum tree removal services, including pricing and process, as well as answer some of your most common questions.
Gum Tree Maintenance
Gum trees require regular maintenance for them to remain healthy and look attractive. This includes removing dead leaves, pruning branches, fertilizing, and watering. Dead leaves should be removed from the tree to prevent the spread of disease. Pruning of branches should be done to promote healthy growth and shape of the tree. Fertilizing with a slow-release fertilizer is necessary to promote healthy growth and to replace the nutrients that the tree uses up. Watering should be done regularly to keep the soil moist but not soggy. This will help the tree to remain healthy and strong.
Gum Tree Removal Process
Our experienced team of arborists follows a strict process to ensure the safe and efficient removal of your gum tree. We use a combination of specialized tools and techniques to carefully cut down the tree and remove it from your property. Our arborists are highly trained in the safe use of all equipment and will always take the necessary steps to ensure your safety.
Once a gum tree is removed, you may be left with an unsightly stump in your yard. Stumps can be difficult to remove and should always be handled by a professional. Our team can remove any size stump quickly and safely, using a combination of grinding and digging techniques. We also offer stump grinding services, which can be used to grind down a stump to below ground level.
Gum Tree Removal FAQs
Q: Why should I remove gum trees?
A: Gum trees can be dangerous if they are not properly maintained and can cause damage to property or injury to people if they are not removed. Additionally, gum trees are considered an invasive species and can quickly overtake a property if not removed.