24 Hour Emergency Tree Removal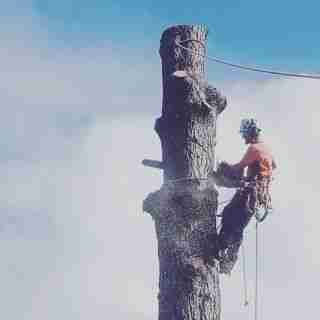 Now and then you will find yourself needing emergency tree services. Regardless of why you need these services, it's integral that you handle it fast before it becomes dangerous or out of control.
Damaged, diseased, or overgrown trees can pose multiple risks to properties, and powerlines, obstruct roads, as well as creating health and safety risks, too. To prevent this type of damage, you need to call the emergency tree services.
Here are the top signs that you need to hire emergency tree services and what service would be needed.
Extreme weather has made a tree unsafe
Unprecedented weather can cause so much destruction to trees. Strong rain, wind, heavy snow, or lightning can cause damage to the branches of a tree. It is not uncommon for these branches to cause damage to properties and cars.
Strong winds are the most common cause of tree damage. In extreme cases, a tree can even be completely uprooted from the soil. If the tree is weaker, the trunk can completely snap causing the entire tree to fall. Likewise, heavy rainfall can cause flooding that washes away the soil and exposes the tree's roots completely weakening the anchor and causing it to fall over.
The tree has become infected or unhealthy
Just like us, trees can get sick and catch various diseases and infections. They then become weak – this is when branches are more likely to fall off which can become dangerous to humans, animals, and property.
Just like human diseases, when a tree is infected it can spread to other trees, sometimes putting whole forests in danger. This is why it's imperative that you hire an arborist as soon as you notice any kind of disease. A trained professional will remove any diseased trees and limit the risk of spreading the infection to trees nearby.
If you see a tree with dead branches, holes in the leaves, hollow pits, clusters of new shoots, or white mildew your tree could, unfortunately, have a disease.
The roots or branches might be threatening a property structure
If you notice an unstable branch hanging dangerously close to something, it may be necessary to get it removed before it falls. One bout of heavy wind could easily cause damage to a house or vehicle. This is something you also have to consider if your tree is threatening your neighbour's home or possessions, it is ultimately your responsibility.
Roots can also begin to get out of control and loft up pathways, and driveways. They can sometimes even damage the foundation of your home. It's important to you tackle these issues before they become incredibly costly.
Remember, if you are selling your home, taking care of trees will help boost the appeal and value of your home, too. Hiring a professional will ensure that you are doing the right thing for your house, whether that is for safety or to increase the worth of your property.
The tree is becoming hazardous
A professional arborist can prune a tree with broken branches in a strategic way so that it won't die. If a tree loses over half of its branches, it will end up dying. A tree can also die if it loses its leader branch (the longest and tallest branch. If you want to help save your tree, an emergency call could be the only option.
Likewise, if a tree is leaning you should ring an arborist to take a look to make sure that it is safe and won't topple over.
If your tree is showing signs of any of the above points, you need to ring emergency tree services. Our experienced, trained arborists will remove a tree or its branches professionally.